Smart monitoring. Anytime. Anywhere.
Microclimate monitoring system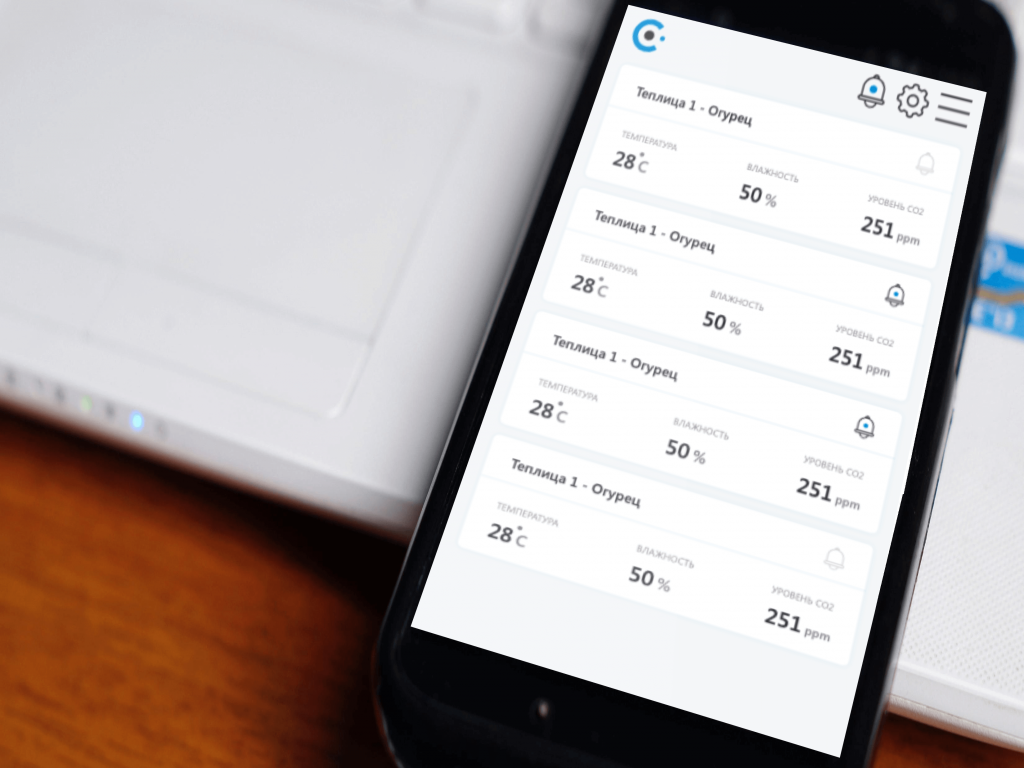 Carbominer MMS is a wireless IoT microclimate monitoring system, created to help growers measure the key parameters of their greenhouses:
CO2 level
Temperature
Relative humidity
Lighting
With Carbominer MMS growers will be able to make informed decisions on the most efficient and sustainable crops growing conditions.
Three steps to your improved growth experience
Plug-in
Easily connect your Carbominer MMS to the network and start monitoring
Monitor & Protect
Protect your crops by setting custom alerts for undesired conditions for each crop type
What Carbominer MMS measures:
Lighting Intensity (coming)
Carbominer MMS allows users to set custom alerts per each crop type and measuring parameters in different greenhouses. This feature will protect your crops from undesired growing conditions. 
One data sensor is designed for one monitoring point, which can be either growing zone or separate greenhouse.  
Each data sensor monitors temperature, CO2 level and relative humidity and more types of monitoring sensors to come. 
With growing temperature, the intensity of photosynthesis doubles. However, with further temperature increase (higher than 27 degrees Celsius) the photosynthesis slows down. It means that unoptimized temperature range slows down the growing process. 
The situation is similar with relative humidity. When humidity is too high, the leaves stomata evaporate less water which leads to slowing down the uptake of  the minerals from the substrate. 
Last, but not least: the situation is the same with the level of CO2 in the greenhouse. If it is depleted to the 150-200 ppm, there is simply no feedstock for photosynthesis and plants' growth stops. However, if the CO2 level is too high, the stomata close, which effectively blocks photosynthesis.   
Only knowing the optimal growing conditions for your crops will lead to the yield increase.
// Hardware
Equipment Pricing
1 Wi-Fi data concentrator 

1 complex sensor (CO2, Temp, RH)

1 power supply

1 USB cable (Type-C)
 
1 Wi-Fi + LoRaWAN data concentrator 
2 complex sensor (CO2, Temp, RH)
1 power supply
1 USB cable (Type-C)
Paper User Manual
1 Wi-Fi + LoRaWAN data concentrator 
3 complex sensors (CO2, Temp, RH)
1 power supply
1 USB cable (Type-C)
Paper User Manual
// Software
Subscription Pricing
Real-time data
Historical data – 7 days 
Supports up to 3 sensors
Up to 5 alerts

 
 
 
Real-time data
Historical data – 3 months
Supports up to 10 sensors
Up to 20 alerts
Cloud storage
Email Support
10% Discount for other products
Real-time data

Historical data – 12 months

Supports up to 100 sensors
Unlimited alerts
Cloud storage
Phone Support
15% Discount for other products
// advantages
Why choose Carbominer MMS
Find optimal range
Find the best conditions for different crop cultures
Get notifications
Get alerts when your plants are in unoptimized conditions
Boost ROI
Maximize your profits by getting the full out of seeds
// Media Featuring us
Our latest cases
+18% of production of tomatoes
"The company is looking for partners to enter Western markets. First of all, the company is interested in Spain, Holland, Turkey, and other countries with a developed greenhouse industry."
READ MORE
Experiment results: Adding CO2 improved plant growth by 20%
"First place winner Carbominer developed a technology for collecting carbon dioxide for greenhouses to use. The CO2 would contribute to speeding up the growth of vegetables."
READ MORE
// contact form
Interested? Pre-order